High School "Gjorce Petrov"
High School "Gjorce Petrov"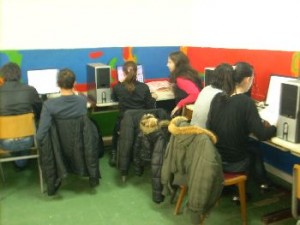 High School "Gjorce Petrov"
SOU "GORGE PETROV"
In 1960/61. The foundations of the highest institutional educational form in the municipality are institutionally set. Then a total of 97 students are enrolled. The secondary school, as a gymnasium, operated until 1982. when the transformation continues to work on the new concept of secondary education, until 1989. Since the 1991/92 school year. reintroducing gymnasium education (general and natural mathematics gymnasium) and vocational education (mechanical and textile vocations). According to this concept, the gymnasium (named after Gjorce Petrov on 13.09.1993) operates to this day following the new reform efforts in order to successfully respond to the contemporary challenges posed by time.
High school education
Vocational education includes:
Mechanical vocation
- mechanical technician – four years
-auto mechanic – three years
Catering and tourism profession
-cooker / waiter – three years
Electrical Engineering
-electrical technician for computer technology and automation – four years
Address: st. 8 October no.91, 1330 Kriva Palanka
Phone: 031/ 375 025
Fax: 031/ 377 120
e-mail: sougorcepetrov@yahoo.com
Web page: www.gjorchepetrov.edu.mk
Self-evaluation report on the work of the school in the period 2015-2017
Self-evaluation report of the work of the school in the period 2017-2019